Build[ing] Culture!
Understanding and experiencing architecture and landscape, traffic, and urban development planning
Workshops for Schools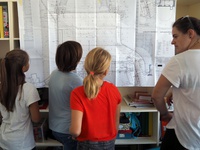 ...schools that already completed the program (in German only)
We live in a built environment that mirrors us and forms our habitat, reflecting the values we attach to living, working, public space, and other important components of our lives. As early as possible, young people should become familiar with these values in interesting and exciting ways, learning about the malleability and designability of the spaces we live in. After all, the majority of our resources go towards building and living, and the built world shapes us and our fellow human beings over decades, both in private and in public.
At ORTE, educating children and adolescents and helping them build an awareness of their environment is a central focus. Towards this goal, the Lower Austrian Architecture Network commissioned Sibylle Bader and her team to develop an educational concept centered around building culture. This resulted in an exciting program, and each year ORTE is able to provide a limited selection of workshops to schools free of charge.
The program animates and motivates young people of all ages and interests through hands-on design activities at their schools, introducing them to architecture and inspiring them to think about design in stimulating ways. Indoor and outdoor workshops encourage creative exploration. For example, exercises in reading façades or drawing direct students' perception to building details, or learning to use one's own body as a surveying instrument stimulates awareness of the many human-space relationships in our everyday lives. And there can never be enough games and experiments! The goal is to create new and long-lasting interest in and ideas about architecture, urban development, landscape design, and traffic planning.
Building culture is a cross-sectional subject that can be integrated into the themes of almost any course at all school levels, making interdisciplinary projects particularly attractive. Our traveling teaching team is innovative and skilled, leading workshops both in and out of the school setting, an important aspect when talking about sustainably improving our environment.
Facts:
Format: Indoor and outdoor workshops for students of all grades
Time: School days during the year
Duration: Two- or four-hour units. Book an indoor and/or an outdoor workshop that lasts for two lesson hours
Location: Schools anywhere in Lower Austria
Target audience: Lower Austrian schoolchildren | VS, NMS, PTS, AHS, BHS
Group size: Maximum 25 students per workshop
Limitations: A maximum of 2 workshops per school, i.e., a maximum of 4 hours can be booked (Additional reservations will be awarded only if the annual quota has not been filled.)
Concept and realization for ORTE: Wanderklasse
Costs:
All workshops are free of charge.
Formalities:
Interested teachers are invited to contact ORTE. Please indicate the school and grade, number of pupils, your desired date(s), and the type of workshop requested: office@orte-noe.at

Attention:
You can apply for workshops in 2021.

Workshops for Schools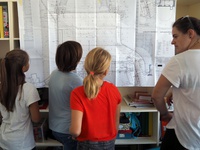 ...schools that already completed the program (in German only)